>
Back
Memorial Poem Card $7.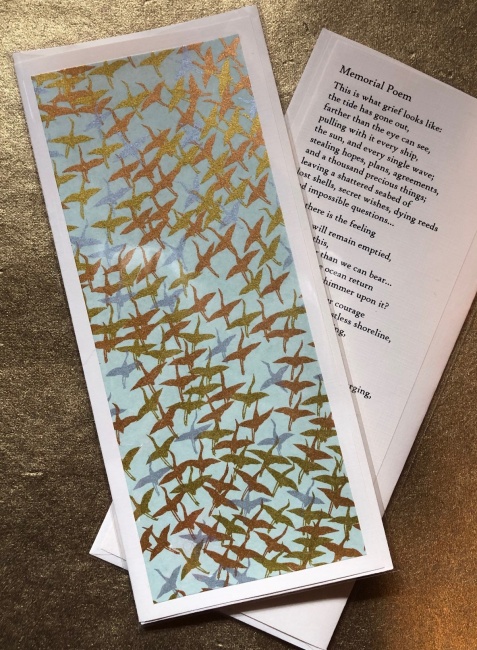 Not very long ago, I received a request for a memorial poem. I felt honored by the poignancy of the task, and walked the trails and fields for several days taking a kind of dictation. What I ended up with is this. Several weeks later I received a box of tea in the mail, and a thank you. The poem had been read at the service and was very well received. At that point, I shared it with my email list. What followed was an outpouring of gratitude and requests- and stories of the services where this poem was being read.
While grief is dark and deep, this poem is somehow helping people feel better. And I am grateful.
I've made the card 4 by 9 1/4 inches, ivory linen with Japanese paper depicting an uplift of cranes on the front. The poem is loosely enclosed to tuck inside with a note.

Memorial Poem

This is what grief looks like:
the tide has gone out,
farther than the eye can see,
pulling with it every ship,
the sun, and every single wave;
stealing hopes, plans, agreements,
and a thousand precious things;
leaving a shattered seabed of
lost shells, secret wishes, dying reeds
and impossible questions…
~
And there is the feeling that
life will remain emptied, slack like this,
much longer than we can bear…
How could the ocean return
and moonlight shimmer upon it?
We pray one day to drag our courage
to the ravaged and restless shoreline,
face the horizon, looming,
and find ourselves
opening, reaching,
calling beyond our mourning.
We pray life responds, gently urging,
This one we love has moved on,
yet somehow we are not finished.
~
Love grows the heart. So does sadness.
~
Within each of us, a warm harbor
of memories, visions, sorrows and joys.
Where light breaks on distant waves,
gulls glide above the incoming sea,
and the soul of our loved one is whispering,
Fear not. Carry on. I am with you…
I am grateful. I am loved. And I'm free.
~Ingrid Goff-Maidoff
p.s. I seem to have to put a ~ in between verses so that the blog doesn't squish them together…
---